What it is
Centering Healthcare Institute (CHI) improves parenting behaviors and child outcomes through its group-based approach to prenatal and pediatric care.
CHI's flagship program, CenteringPregnancy®, brings together 8-12 mothers with similar due dates, their partners, and a healthcare team for a series of 10 prenatal visits.
CHI's second program, CenteringParenting®, continues for nine well-child visits over the first two years of a child's life. Each two-hour Centering visit combines a one-on-one health assessment for each patient with the provider (including immunizations and developmental screenings) as well as interactive learning and community-building to help support positive parent behaviors and drive better child outcomes.
The problem it addresses
Research shows that a child's healthy development in its early years – beginning in pregnancy – provides the necessary building blocks for positive, longer-term outcomes including educational attainment, economic productivity, and physical health.
But 10% of children in the U.S. are born prematurely, which can hinder children's cognitive and social-emotional development and skills, cause delays in physical development, and lead to chronic respiratory problems and vision and hearing impairment. Preterm birth rates are on the rise in the U.S. and cost $26.2 billion to society annually. Preterm birth rates are particularly high for infants born to Black mothers: 44% higher than those of infants born to white mothers.
After birth, early screening allows for detection of both developmental delays and health issues. One in six children aged three through 17 years have one or more developmental disabilities, and yet only 30% of children 9-35 months of age receive a developmental screening. Parents play a critically important role in ensuring their children are on track, but almost half (48%) of all parents don't feel they are getting the support they need when they feel stressed.
Low-income communities and communities of color, in particular, are less likely to have access to the tools that support a child's healthy development and thus are disproportionately burdened by poor outcomes early in life.
Why we believe in it
Evidence captured in over 100 published studies and peer-reviewed articles shows that CenteringPregnancy improves health outcomes for both mothers and their babies, including decreased risk of preterm birth, better prenatal and postpartum visit attendance, greater readiness for birth and infant care, and improved breastfeeding rates. A 2007 randomized control trial (RCT) studied 1,047 pregnant women and found that CenteringPregnancy reduced the risk of preterm birth by 33%, while eradicating the racial disparity in preterm birth rates.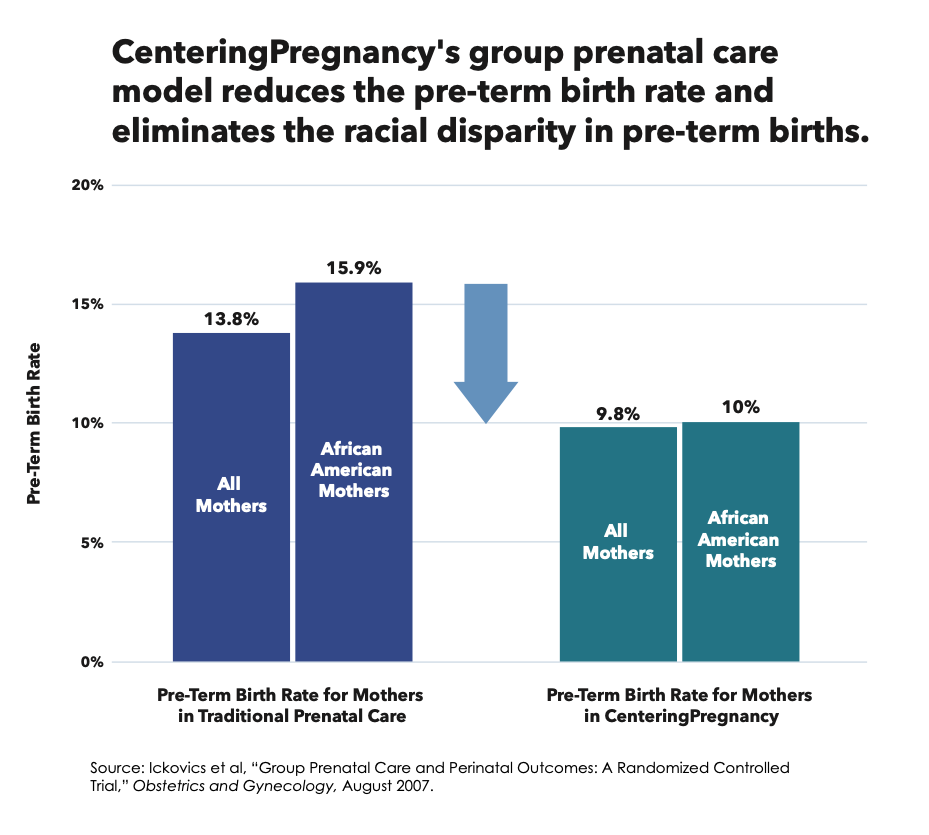 The evidence base on CenteringParenting is more nascent but promising. A 2020 RCT as well as several other studies showed that mothers who participated in CenteringParenting instead of individual pediatric care had better attendance at well-child visits and better adherence to the immunization schedule. Internal data also points to higher rates of breastfeeding (92% at discharge and 61% at 9-12 months for Centering mothers vs. 84% and 36% nationwide) and developmental screenings (94% at 9-12 months for Centering children vs. 30% of children between 9-35 months of age nationwide).
Because Centering is a billable primary care visit, it is a cost-neutral and therefore highly scalable intervention.
Additionally, because CenteringPregnancy is proven to reduce costly preterm births, payers (such as states) are highly motivated to support implementation and expansion of CenteringPregnancy.
Progress to date
At the end of 2019, Centering was reaching over 100,000 families at 605 sites, up from almost 57,000 families in 2017.
Further, Centering is poised for significant growth. Nine states have implemented payment incentives for CenteringPregnancy. For example, South Carolina launched a state-wide rollout of CenteringPregnancy in 2013, providing funding to start new sites and enhanced payment for patient visits through Medicaid and managed care organizations; they are now serving 2,300 mothers annually. More recently in New Jersey, the state, and three local private foundations provided funding for the implementation of CenteringPregnancy and CenteringParenting. The state has also enacted enhanced Medicaid reimbursement to make the CenteringPregnancy more accessible.